Posts for: August, 2013
By James C. Palmer, DDS
August 21, 2013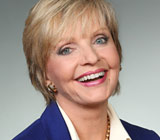 She's an international star who's recognized everywhere she goes. As Carol Brady, she was an ambassador for the "blended family" before most of us even knew what to call her bunch. And her TV Land Pop Culture Icon Award is on permanent display in the National Museum of American History. So what item that fits inside a purse can't Florence Henderson do without?
"I will never leave home without dental floss!" she recently told an interviewer with Dear Doctor magazine. "Because I have such a wide smile, I have found spinach or black pepper between my teeth after smiling very broadly and confidently."
Henderson clearly understands the importance of good oral hygiene — and she's still got her own teeth to back it up! In fact, flossing is the best method for removing plaque from between the teeth, especially in the areas where a brush won't reach. Yet, while most people brush their teeth regularly, far fewer take the time to floss. Is there any way to make flossing easier? Here are a couple of tips:
Many people have a tendency to tighten their cheeks when they're holding the floss, which makes it more difficult to get their fingers into their mouths and working effectively. If you can relax your facial muscles while you're flossing, you'll have an easier time.
To help manipulate the floss more comfortably, try the "ring of floss" method: Securely tie the floss in a circle big enough to easily accommodate the fingers of one hand. To clean the upper teeth, place fingers inside the loop, and let the thumb and index finger guide the floss around each tooth. For the lower teeth, use two index fingers. Keep moving the floss in your hand so you always have a clean edge... and remember, the goal is to get the tooth clean, but it shouldn't hurt — so don't use too much pressure or go too fast.
So take a tip from Mrs. Brady: Don't forget the floss! If you would like more information about flossing and other oral hygiene techniques, please contact us for a consultation. You can learn more in the Dear Doctor magazine article "Flossing: A Different Approach."
By James C. Palmer, DDS
August 06, 2013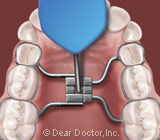 Have you heard of palatal expanders? If your child needs orthodontic work, then you ought to hear about them! These small appliances offer plenty of advantages to kids whose smiles, due to a variety of problems, may need some help. Here are five things you should know:
1. Palatal expanders are small orthodontic appliances that fit inside the mouth.
Custom-fabricated for each child, these devices are placed near the roof of the mouth, in between the two rows of upper teeth. They consist of two small metal brackets with a tensioning system that can be adjusted by a tiny key. Not everyone needs one, but they can really benefit kids with certain orthodontic conditions.
2. Palatal expanders take advantage of a child's natural growth processes.
That's part of the reason they work so well. Since the bones of a child's upper jaw don't fuse together until sometime after puberty, it's relatively easy to move them apart before that time. The palatal expander applies gentle pressure to gradually move the left and right halves of the upper jaw apart, over a period of a few months. Then it's left on several weeks longer, allowing new bone to fill in and stabilize the expansion.
3. Palatal expanders are helpful in treating a variety of orthodontic problems.
Crowding — that is, not having enough space in the jaw to accommodate all of the teeth — is one major issue. A related issue is impacted teeth: These are teeth that are blocked from coming in (erupting) by other teeth or jaw structures. A third issue is crossbite: That's when the back top teeth come down to bite inside, rather than outside, the bottom teeth. Gaining additional space in the upper jaw can help relieve all of these problems.
4. Palatal expanders can eliminate the need for tooth extraction.
Once upon a time, extraction was the only way to solve these problems. However it's an invasive (and potentially complex) procedure. A palatal expander can often provide the same — or better — results, via a noninvasive method.
5. Palatal expanders typically shorten overall orthodontic treatment time.
They're generally worn for a total of three to six months, but they can considerably shorten a child's overall orthodontic treatment time. Plus, they're invisible — a big plus to image-conscious teens. Could they benefit your child?
If you have questions about palatal expanders, please contact us or schedule an appointment for a consultation. You can learn more in the Dear Doctor magazine articles "Palatal Expanders" and "The Magic of Orthodontics."