Posts for: February, 2014
By James C. Palmer, DDS
February 21, 2014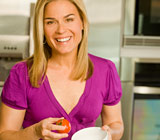 Cat Cora is a world-class chef, restaurateur, best-selling author, and philanthropist — on top of being the first female chef on the hit television show Iron Chef America. She is also the mother of four active young sons. And while all these important roles require her daily attention, she makes oral health a top priority for herself and her family through diet, brushing, flossing and routine visits to the dentist.
During a recent interview with Dear Doctor magazine, Cat revealed that she had her wisdom teeth removed when she was in her thirties and another tooth extracted and replaced with a dental implant. When asked to compare the two experiences, Cat said that the implant was "much easier for me." She went on to say, "It feels very natural" and "now, I don't even think about it."
Some may be surprised by Cat's response; however, we find it to be a quite common one.
There is no question that over the last two decades, dental implants have revolutionized tooth replacement and the field of dentistry. A dental implant, used to replace missing teeth, is placed in the jawbone with a minor surgical procedure. What's amazing is that over time these dental implants actually fuse with or integrate into the bone, thus making them an ideal permanent solution for replacing a missing tooth. They are typically made of commercially pure titanium, a substance that has been used for medical and dental implants for years. The crown, the part above the gum tissues, is attached to the implant via a retaining screw and a connecting piece called an abutment. The crown itself is artistically crafted using porcelain to mimic the look and feel of a natural tooth — just as Cat Cora describes.
To learn more about dental implants, continue reading the Dear Doctor magazine article "Dental Implants, Your Third Set of Teeth." Or you can contact us today to schedule an appointment so that we can conduct a thorough examination and discuss what treatment options will be best for you. And to read the entire interview with Cat Cora, please see the article "Cat Cora."
By James C. Palmer, DDS
February 05, 2014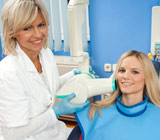 Your dental care would be much more limited without our ability to see "below the surface" with x-ray imaging. But since x-rays passing through the body are a form of radiation, could your exposure from them be hazardous to your health?
It depends on exposure dosages and, of course, the amount you have been exposed to over your lifetime. But, decades of research have demonstrated that exposure to dental x-rays during your regular office visits are only a fraction of the radiation you normally encounter from the natural environment every year.
X-rays have the ability to pass through body tissues, but at different rates for soft tissue like skin and muscle and hard tissue like bone. This effect creates shadows on exposed film; the differentiation is in such detail that a trained technician can interpret not only internal structures, but defects such as fractured bone or, in the case of dentistry, signs of tooth decay and bone loss from gum disease.
But like other energy sources in our environment, x-rays do emit radiation that in high doses can be dangerous to living tissue. The amount of exposure is measured in millisieverts (mSv), a unit that allows for comparison of doses from different sources of radiation. Scientists have calculated that we're normally exposed to between 2 and 4.5 mSv every year.
By contrast, a single digital periapical image taken of a tooth is equal to 1 microsievert (μSv), or one thousandth of an mSv; a full mouth series (between 18 and 20 images) creates an exposure of 85 μSv, or 85/1000 of one mSv. In addition, advances in technology have further reduced the radiation exposure from x-ray imaging. For example, digital imaging has reduced exposure during full mouth x-rays from seven to ten days of equal exposure from normal background radiation to half a day, and with no loss in image quality.
In effect, dental x-rays pose little to no risk for patients. Still, understanding that x-ray imaging does expose patients to radiation, dentists follow certain protocols and safety precautions. For example, dentists will place a lead apron around their patients' chest area during an x-ray exposure.
As your dentist, we're happy to address any concerns you may have about x-ray radiation exposure. But rest assured, the x-ray devices used in your dental care, so necessary in the fight against tooth decay and other diseases, are safe and reliable.
If you would like more information on the use of x-ray technology and safety, please contact us or schedule an appointment for a consultation. You can also learn more about this topic by reading the Dear Doctor magazine article "X-Ray Frequency and Safety."