Posts for: November, 2014
By James C. Palmer, DDS
November 26, 2014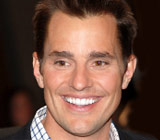 Can having a great smile help land you a high-level business position, a TV show, and a bride? Maybe — at least if you go by the example of Bill Rancic.
The 42-year-old Chicago native is well known as the first winner of NBC-TV's The Apprentice, a reality show where contestants vied for a job with Donald Trump's organization. Shortly after his selection as Trump's newest hire, Rancic met his future wife, Giuliana, when she interviewed him for E! News. Flash forward a few years, and the couple is now hosting their own reality TV show on Style network.
So how much has Bill's winning smile helped?
"I think a great smile says a lot about a person — especially in our professions," Bill recently said in an interview with Dear Doctor magazine. He also mentioned that having a few cosmetic dental treatments helped him close the deal.
As a child, Bill wore braces to correct an overbite. For both kids and adults, orthodontic treatment is often the first step toward getting the smile of your dreams. The practice of orthodontics has changed dramatically in the past 20 years and there are now a number of choices available in lieu of traditional metal braces.
Not Your Father's Braces
For those who need to maintain a "professional" image, tooth-colored braces offer a less noticeable way to straighten your teeth. Lingual braces are another option that's suitable in some situations. These are truly invisible: bonded on the tongue side of the teeth, they can't be seen from the front.
Or, you may be able to forego braces altogether and use a series of clear plastic aligners to gradually bring your teeth into alignment. Not only are these difficult to notice, but they can be completely removed for short periods of time — at important board meetings, for example.
Red-Carpet Tooth Whitening
More recently, Rancic had tooth whitening treatments. Depending on the degree of lightening needed, these can range from custom-fitted bleaching trays that you wear at home under the supervision of a dentist, to in-office whitening treatments that work in far less time. Both can be effective in lightening your teeth by six shades or more.
But if you need the ultimate in whitening, veneers may be the best option. These are fingernail-thin coatings, made of pearly-white porcelain or composite material, that are placed directly on the tooth surfaces. Realistic and durable, they can provide a "Hollywood white" smile that's ready for the red carpet.
Did Bill's cosmetic dental work really improve his life? We can't say for sure — but as his wife Giuliana recently told Dear Doctor, "First impressions are very important, and having a beautiful smile will help anyone make a great impact on others." So perhaps it worked on her!
If you would like more information on how cosmetic dental treatments can improve your smile, please contact us or schedule an appointment for a consultation. You can learn more about this topic in the Dear Doctor magazine articles "The Magic of Orthodontics" and "Important Teeth Whitening Questions Answered."
By James C. Palmer, DDS
November 11, 2014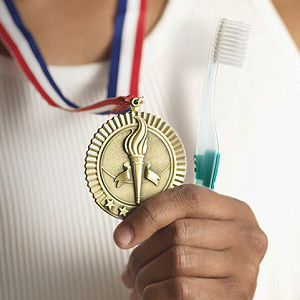 Considering all the intensive conditioning, practice and training they do, most people would expect elite athletes to be… well… healthy. And that's generally true — except when it comes to their oral health. A major study of Olympic contenders in the 2012 London games showed that the oral health of athletes is far worse than that of the general population.
Or to put it more succinctly: "They have bodies of Adonis and a garbage mouth."
That comment, from Dr. Paul Piccininni, a practicing dentist and member of the International Olympic Committee's medical commission, sums up the study's findings. In terms of the numbers, the report estimates that about one in five athletes fared worse in competition because of poor oral health, and almost half had not seen a dentist in the past year. It also found that 55 percent had cavities, 45 percent suffered from dental erosion (excessive tooth wear), and about 15 percent had moderate to severe periodontal (gum) disease.
Yet, according to Professor Ian Needleman of University College, London, lead author of the study, "Oral health could be an easy win for athletes, as the oral conditions that can affect performance are all easily preventable."
Many of the factors that had a negative impact on the athletes are the same ones that can degrade your own oral health. A follow-up paper recently published in the British Journal of Sports Medicine identified several of these issues. One is a poor diet: The consumption of excessive carbohydrates and acidic foods and beverages (including sports drinks) can cause tooth decay and erosion of the protective enamel. Another is dehydration: Not drinking enough water can reduce the flow of healthy saliva, which can add to the damage caused by carbohydrates and acids. The effects of eating disorders (which are more commonly seen in certain sports, such as gymnastics) can also dramatically worsen an individual's oral health.
Sound familiar? Maybe it's because this brings up some issues that dentists have been talking about all along. While we don't mean to nag, this study does point out that even world-class competitors have room for improvement with their oral hygiene. How about you? Whether you're a triathlete in training, a weekend warrior or an armchair aficionado, good oral health can have a major effect on your well-being.
If you have additional questions about oral health, please contact us or schedule an appointment for a consultation. For more information, see the Dear Doctor magazine article "Good Oral Health Leads to Better Health Overall."