Posts for: September, 2020
By James C. Palmer, DDS
September 20, 2020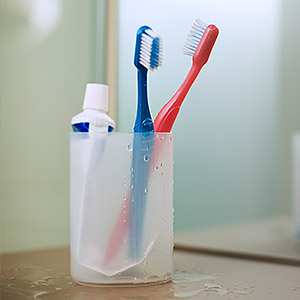 After years of research, we're confident in saying that brushing and flossing daily are essential for maintaining a healthy mouth. A mere five minutes a day performing these tasks will significantly lower your risk of dental disease.
We're also sure about the essentials you'll need to perform these tasks: a soft-bristled toothbrush using fluoride toothpaste, and a roll (or picks) of dental floss. The only deviation might be a water flosser appliance instead of flossing thread.
Unfortunately, some folks deviate even more from the norm for both of these tasks. One of the strangest is a social media trend substituting regular toothpaste with substances containing activated charcoal. The proponents of brushing with charcoal claim it will help whiten teeth and kill harmful microorganisms. People brushing with a black, tarry substance also seem to make for good "gross-out" videos.
There's no substantial evidence to support these claims. Perhaps proponents of charcoal's whitening ability are assuming it can remove stains based on its natural abrasiveness. It could, however, remove more than that: Used over time, charcoal could wear down the protective enamel coating on your teeth. If that happens, your teeth will be more yellow and at much greater risk for tooth decay.
When it comes to flossing (or more precisely, removing food material from between teeth), people can be highly inventive, substituting what might be at hand for dental floss. In a recent survey, a thousand adults were asked if they had ever used household items to clean between their teeth and what kind. Eighty percent said they had, using among other things twigs, nails (the finger or toe variety) and screwdrivers.
Such items aren't meant for dental use and can harm tooth surfaces and gum tissues. Those around you, especially at the dinner table, might also find their use off-putting. Instead, use items approved by the American Dental Association like floss, floss picks or toothpicks. Some of these items are small enough to carry with you for the occasional social "emergency."
Brushing and flossing can absolutely make a difference keeping your teeth and gums healthy. But the real benefit comes when you perform these tasks correctly—and use the right products for the job.
If you would like more information on best oral hygiene practices, please contact us or schedule an appointment for a consultation.
By James C. Palmer, DDS
September 10, 2020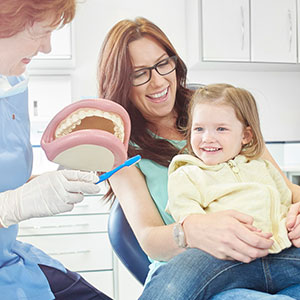 Infancy is perhaps the only time in a person's life where a smile with just a few tiny teeth is still endearing. More will come—and then each will gradually depart, succeeded by permanent replacements.
That short lifespan, though, doesn't diminish their importance. Primary teeth not only provide children the ability to eat solid food and develop speech, but they set the stage for future dental health.
The latter arises from primary teeth's role as placeholders for incoming permanent teeth. Because permanent teeth eruption occurs in stages, primary teeth prevent earlier erupted teeth from drifting into the space intended for a later tooth. If they're lost prematurely and other teeth crowd into the space, the intended tooth may not have enough room to erupt properly, cascading from there into a poor bite (malocclusion).
The most common reason for premature loss is an aggressive form of tooth decay in children under 6 called early childhood caries (ECC). About one in four U.S. children encounter ECC, with those in poverty at higher risk. Infection in one tooth can spread to others, including newly erupted permanent teeth.
The goal then is to prevent ECC as much as possible, and initiate prompt treatment should it still occur. A good prevention strategy has two prongs: the actions and habits of parents or caregivers; and the prevention and treatment measures taken by dental providers.
At home, it's important that you wipe your newborn's gums with a clean, damp cloth after each feeding to reduce bacterial growth. As teeth erupt, switch then to gentle brushing with a rice grain-sized amount of baby toothpaste. You should also limit their sugar consumption, including not allowing them to sleep with a bedtime bottle of any liquid other than water.
It's also important that you start your child's regular dental visits around their first birthday. This allows us to detect any developing cavities, as well as apply sealants and topical fluoride to help prevent decay. And should a cavity develop, regular visits help ensure prompt treatment to preserve the tooth.
Your child's set of primary teeth only last a few short years, but their contribution echoes for a lifetime. Taking these measures to protect them from tooth decay ensures they'll fully make that contribution.
If you would like more information on dental care for children, please contact us or schedule an appointment for a consultation. You can also learn more about this topic by reading the Dear Doctor magazine article "Do Babies Get Tooth Decay?"