Posts for: October, 2020
By James C. Palmer, DDS
October 20, 2020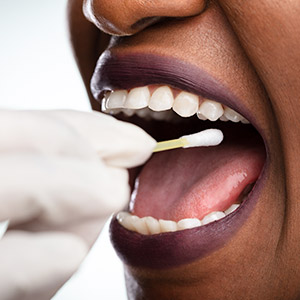 Brushing and flossing daily, and dental visits at least twice a year: These are the essential things you should be doing to protect your teeth and gums against dental disease. But you're also getting an automatic assist from your body through saliva, that humble fluid swishing around in your mouth, to protect your oral health.
It's more than simply "mouth water": Without saliva and its various components, your risk for tooth decay or periodontal (gum) disease would be much higher. Here are 4 ways saliva helps you keep your teeth and gums healthy.
Cleansing. Chewing prepares your food for digestion, but in the process produces tiny particles of food debris. Settling on tooth surfaces, these bits become part of the dental plaque that forms on your teeth and develops the ideal breeding ground for disease-causing bacteria. Saliva helps rinse away much of this debris—particularly sugar, the primary food source for bacteria.
Protection. Saliva is the first line defense against disease-causing microorganisms entering the mouth. The primary source of this protection is a protein-based antibody called Immunoglobulin A (IgA), which directly fights infection-causing organisms. Another protein in saliva, lactoferrin (also found in tears), interferes with bacterial growth.
Buffering. The main enemy of tooth enamel is mouth acid, produced by oral bacteria and the foods that we eat. Saliva neutralizes acid to help the mouth maintain its normally neutral pH range. And it works fast: Saliva can buffer acid and restore balance within thirty minutes to an hour after eating.
Re-mineralization. It's normal for acid to build up after eating, and for it to quickly remove minerals from surface enamel, a process called de-mineralization that can soften and weaken the enamel. But saliva helps restore some of these lost minerals as it's neutralizing acid. This re-mineralization re-strengthens enamel against tooth decay.
Saliva is so important for maintaining a healthy mouth, it's worth your efforts to protect it. Diminished saliva production not only produces an unpleasant dry mouth, it may increase your risk for disease. If this is a constant problem, speak to your dentist about causes and remedies. You'll be doing your teeth and gums a favor.
If you would like more information on the role of saliva in maintaining oral health, please contact us or schedule an appointment for a consultation. You can also learn more about this topic by reading the Dear Doctor magazine article "Saliva: How it is Used to Diagnose Disease."
By James C. Palmer, DDS
October 10, 2020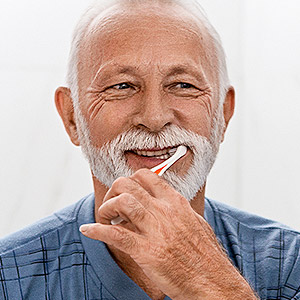 Little things add up. Like your three meals a day, which could total over 87,000 by the time you're eighty. If you average a full night's sleep every night, you will have whiled away over a quarter of a million hours in slumber by your diamond birthday. And if you're the typical American, you will also have spent over 900 hours (or nearly 40 days) brushing your teeth.
If that last example sounds like a lot, it's actually not: If it's a daily habit, that's about two minutes of brushing a day. But that little bit of time could have an incredible impact on your dental health over a lifetime. That's why dental providers commemorate October as National Dental Hygiene Month to call attention to just how important those 900-plus hours can be to a healthy mouth.
Brushing is important because of what a few strains of bacteria can do to your oral health. While most of your mouth's microscopic inhabitants do no harm (and some are even beneficial), the malevolent few cause tooth decay and gum disease, both of which could lead to tooth loss.
These bacteria live in and feed off of a thin biofilm of food particles called dental plaque. Over time, plaque and tartar (a hardened, calcified form) can build up on tooth surfaces. As it grows, so does the mouth's bacterial population and the risk for disease. In fact, just a few days of undisturbed plaque growth is enough time for a gum infection to get started.
Brushing your teeth removes this plaque accumulation, which reduces the bacterial levels in your mouth. A thorough brushing of all surfaces usually takes about two minutes, but it must be done every day to keep plaque at bay. So, yes, a little time spent brushing every day can be a big deal. That said, though, it's not the be-all and end-all of oral hygiene. You should also floss daily since plaque accumulates just as readily in the spaces between teeth where brushing can't reach. We, along with the American Dental Association, recommend brushing twice a day and flossing once a day for optimal oral health.
But no matter how proficient you are with brushing and flossing, you may still miss some spots. Be sure, then, that you also see us regularly for dental cleanings to thoroughly clean your teeth of plaque and fully minimize your risk of dental disease.
Oral hygiene only takes a little of your time each day. But it does add up—not only in the "days" you'll spend doing it, but in a lifetime of better dental health.
If you would like more information about getting the most out of your daily oral hygiene, please contact us or schedule a consultation. To learn more, read the Dear Doctor magazine article "Daily Oral Hygiene."