Posts for: January, 2021
By James C. Palmer, DDS
January 19, 2021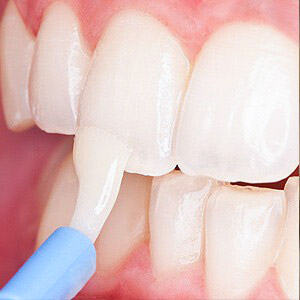 Tooth decay is perhaps the biggest danger your child's teeth can face. Not only can it rob them of primary teeth now, but the loss of teeth at this early age could also lead to future bite problems.
That's why it's important to reduce the risk of tooth decay through daily brushing and flossing and regular dental cleanings. You child may also benefit from another measure that enhances those other hygiene efforts—topical fluoride applied directly to tooth surfaces.
Fluoride is a naturally occurring chemical that's been demonstrated to strengthen tooth enamel against contact with acid, the main cause of tooth decay. Today, fluoride is added not only to toothpastes and other dental hygiene products, but also in minute amounts to drinking water supplies across the country.
Even if your child takes in fluoride through one or more of these sources, there may still be a benefit to a topical application. For one, topical applications are usually stronger than fluoride toothpaste or fluoridated water supplies and can have greater effect. And because fluoridated water is ingested first before traveling through the bloodstream to the teeth, directly applied fluoride can strengthen them much faster.
But are these stronger concentrations of topical fluoride safe? Studies have shown no long-term health risk, but there can be temporary side effects like stomach pain, vomiting or headaches if the patient accidently swallows too much of the solution during the application. These side effects, however, can be minimized through safety measures dentists put in place during the procedure.
One study by the Cochrane Oral Health Research Group seems to show that the long-term benefit of topical fluoride is well worth this minor risk of side effects. After reviewing several scientific studies involving thousands of patients, the group found an overall 28% reduction in decayed, filled or missing teeth over a number of years among those who received a topical fluoride treatment.
Because of these and other forms of evidence, fluoride applications in either gel, foam or varnish forms have become a routine part of preventive care for children. Discussing it with your dentist, you may find it could be an extra weapon for your child in fighting tooth decay.
If you would like more information on how to protect your child's teeth from decay, please contact us or schedule an appointment for a consultation. You can also learn more about this topic by reading the Dear Doctor magazine article "Fluoride Gels Reduce Decay."
By James C. Palmer, DDS
January 09, 2021

Dental patients have amazing options for tooth replacement. Dental implants, for example, can replace the entire tooth, root and crown, giving patients a new tooth nearly as good as the old one.
Nearly—but not exact. Even implants can't match the full benefits of a natural tooth, including one in less than perfect shape. Our first goal as dentists, then, is to save a diseased tooth if at all practical before considering replacing it.
That often involves a root canal treatment to address decay threatening a tooth's interior. The procedure requires drilling into the tooth to access its innermost pulp, cleaning out the pulp and root canals, and then filling the empty spaces. Since all dentists are trained in basic root canal treatment, your general dentist may be able to perform it.
But some dental situations call for more advanced endodontics, the dental specialty for treating disease and other problems inside a tooth. So, in what situations would you see an endodontist?
When your dentist refers you. Your dentist wants you to receive the level of treatment necessary to save your tooth. After examination, they may determine your situation would be better served by the advanced training, equipment and techniques (including surgery) of an endodontist.
When your tooth has complications. Patients often need an endodontist when existing factors complicate treatment of advanced tooth decay. A patient may have dental pain that's difficult to pinpoint, requiring the diagnostic resources of an endodontist. It's also common for a tooth's root canal network to be highly intricate, and which respond better to treatment with specialized endodontic tools and techniques.
When root canal treatment fails. Most root canal treatments are successful in protecting the tooth from further infection. That said, it's still possible for a root-canaled tooth to become re-infected or develop more problems. Again, an endodontist and their "tool chest" re-treating a root-canaled tooth may be the best option for saving it.
You also don't have to wait for a referral—you can see an endodontist if you believe they would be best to treat your decayed tooth. You can find one near you by visiting an online endodontist directory at www.aae.org/find. An endodontist may be the lifesaver your diseased tooth needs.
If you would like more information on saving a tooth through endodontic treatment, please contact us or schedule an appointment for a consultation.