Posts for: February, 2021
By James C. Palmer, DDS
February 18, 2021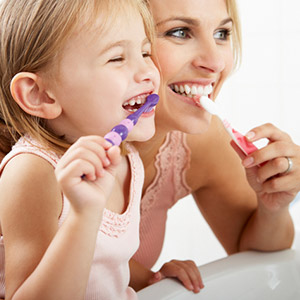 February is Children's Dental Health Month—the perfect time to talk about the oral health of the little ones in your family. According to the U.S. Centers for Disease Control, one out of every five children ages 5 to 11 has at least one untreated cavity. Although this statistic may not seem terribly significant given that primary teeth fall out anyway, dental disease is a concern even for kids.
Just as with adult teeth, baby teeth are needed for eating, speaking and smiling. Besides these obvious functions, primary teeth serve a crucial role as placeholders for the corresponding permanent teeth. If they are lost early, the adult teeth could come in crooked, crowded or out of place, increasing the chances of needing complex and costly treatment later. And because the enamel on primary teeth is thinner than that of permanent teeth, baby teeth are more vulnerable to decay, which can spread quickly—both to the inside of the tooth and to neighboring teeth. Decaying teeth can cause pain, which may interfere with getting proper nutrition. In addition, children with poor dental health are more likely to miss school and are much more likely to suffer from decay in their permanent teeth.
Fortunately, many dental problems can be avoided by following a few guidelines:
Instill good oral hygiene habits in your child. Teach children to brush twice a day with fluoride toothpaste and, when they are old enough, to floss once a day. (A handheld flosser can make flossing easier for young ones.) Preventing dental disease through good daily habits can save a lot of trouble down the line.
Offer nutritious foods. For healthy teeth and a healthy body, encourage your child to make nutritious food choices. Instead of sugary snacks, opt for fruits, vegetables and cheese. And choose plain water instead of soda, fruit juice or sweetened beverages.
Keep up with regular checkups and cleanings. The world's health focus has been all about COVID-19 and in an effort to isolate as much as possible some parents may have put off routine dental checkups for their children. However, it is important for the dental team to monitor the health of little mouths to keep small problems from turning into bigger, potentially painful ones. When it comes to infection control, dental professionals go above and beyond the minimum requirements to protect you and your loved ones. We are committed to a higher standard, following protocols that help ensure your health and safety.
Talk with us about preventive treatments. During your child's visit, ask whether a topical fluoride treatment or dental sealants are recommended. These affordable ways to help prevent cavities can benefit many children.
The key to healthy smiles for life is to start early. A good day-to-day dental hygiene habit along with healthy food choices and regular dental checkups can set your child on the course for a lifetime of good oral health.
If you would like more information about how to maintain your child's dental health, please contact us or schedule a consultation. To learn more, read the Dear Doctor magazine article "Dentistry & Oral Health for Children."
By James C. Palmer, DDS
February 08, 2021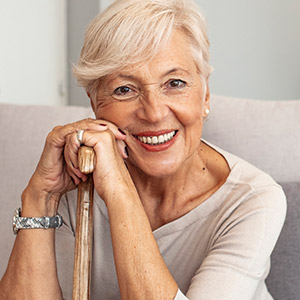 We can't stop getting older or completely avoid many of the consequences that come with aging. Even so, there are things we can do to age more gracefully.
That includes your smile, which can also suffer the ravages of time. Teeth naturally wear and yellow over the years. We're also more susceptible to both tooth decay and periodontal (gum) disease as we age.
You can help slow some of these age-related dental problems by simply caring for your teeth and gums. This includes not only brushing and flossing every day to remove dental plaque (which can cause disease and dull your smile), but also seeing a dentist every few months for more thorough cleanings.
You can also take advantage of certain cosmetic enhancements to address some of the age-related issues that could keep you from having a more youthful smile.
Discolored teeth. Teeth tend to get darker over time, the combination of stain-causing foods and beverages, habits like smoking and age-related changes in tooth structure. You may be able to temporarily attain a brighter smile with teeth whitening. For a more permanent effect, we can cover stained teeth with porcelain veneers, dental bonding or dental crowns.
Worn teeth. After decades of chewing and biting, teeth tend to wear, with habits like teeth grinding accelerating it. This can cause teeth to appear abnormally small with hard, sharpened edges in contrast to the soft, rounded contours of younger teeth. In some cases, we can restore softer tooth edges with enamel contouring and reshaping. For more severe wearing, veneers or crowns could once again provide a solution.
Recessed gums. Because of gum disease, over-aggressive brushing or a genetic disposition to thinner gums, gums can shrink back or "recede" from normal teeth coverage. This not only exposes vulnerable areas of the teeth to harmful bacteria, it can also make teeth appear longer than normal (hence the aging description, "long in the tooth"). We can address recession by treating any gum disease present and, in extreme cases, perform grafting surgery to help rebuild lost tissue.
Losing your attractive smile isn't inevitable as you get older. We can help you make sure your smile ages gracefully along with the rest of you.
If you would like more information on keeping a youthful smile, please contact us or schedule an appointment for a consultation. You can also learn more about this topic by reading the Dear Doctor magazine article "How Your Dentist Can Help You Look Younger."