Posts for tag: root canal treatment
By James C. Palmer, DDS
January 09, 2021

Dental patients have amazing options for tooth replacement. Dental implants, for example, can replace the entire tooth, root and crown, giving patients a new tooth nearly as good as the old one.
Nearly—but not exact. Even implants can't match the full benefits of a natural tooth, including one in less than perfect shape. Our first goal as dentists, then, is to save a diseased tooth if at all practical before considering replacing it.
That often involves a root canal treatment to address decay threatening a tooth's interior. The procedure requires drilling into the tooth to access its innermost pulp, cleaning out the pulp and root canals, and then filling the empty spaces. Since all dentists are trained in basic root canal treatment, your general dentist may be able to perform it.
But some dental situations call for more advanced endodontics, the dental specialty for treating disease and other problems inside a tooth. So, in what situations would you see an endodontist?
When your dentist refers you. Your dentist wants you to receive the level of treatment necessary to save your tooth. After examination, they may determine your situation would be better served by the advanced training, equipment and techniques (including surgery) of an endodontist.
When your tooth has complications. Patients often need an endodontist when existing factors complicate treatment of advanced tooth decay. A patient may have dental pain that's difficult to pinpoint, requiring the diagnostic resources of an endodontist. It's also common for a tooth's root canal network to be highly intricate, and which respond better to treatment with specialized endodontic tools and techniques.
When root canal treatment fails. Most root canal treatments are successful in protecting the tooth from further infection. That said, it's still possible for a root-canaled tooth to become re-infected or develop more problems. Again, an endodontist and their "tool chest" re-treating a root-canaled tooth may be the best option for saving it.
You also don't have to wait for a referral—you can see an endodontist if you believe they would be best to treat your decayed tooth. You can find one near you by visiting an online endodontist directory at www.aae.org/find. An endodontist may be the lifesaver your diseased tooth needs.
If you would like more information on saving a tooth through endodontic treatment, please contact us or schedule an appointment for a consultation.
By James C. Palmer, DDS
May 24, 2018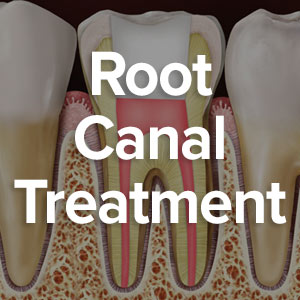 If you're undergoing your first root canal treatment, it's understandable if you're apprehensive. So, let's cut to the chase about your biggest fear: a root canal treatment doesn't cause pain, it relieves it — and saves your tooth too.
You need this procedure because decay has spread deep into your tooth's inner pulp. The infection has already attacked the nerves bundled within the pulp chamber, the source of the pain that led you to us in the first place.
The real concern, though, is the infection continuing to travel through the canals of the tooth root. If that happens, you're in danger of not only losing the tooth, but also losing surrounding bone, adjacent teeth or damaging other important structures close by. Our goal is simple: remove the infected pulp tissue and seal the empty chamber and root canals from further infection with a special filling.
We begin by numbing the tooth with local anesthesia — you won't feel anything but slight pressure as we work. After placing a dental dam — a thin sheet of rubber or vinyl — around the affected tooth to maintain a clean work area, we drill a small hole through the biting surface of a back tooth or in the rear surface of a front tooth. We'll use this hole to access the pulp, where we'll first remove all the dead and diseased tissue from the chamber. We'll then disinfect the chamber and root canals with antiseptic and antibacterial solutions.
After some shaping, we'll fill the chamber and canals, usually with gutta-percha that's malleable when heated and can be compressed into and against the walls of the root canals to completely seal them. We'll then seal the access hole.
You may have a few days of mild discomfort afterward, which can be managed generally with pain relievers like aspirin or ibuprofen. Later, we'll permanently restore the tooth using filling to seal the root canal inside the tooth followed by a custom crown that's fit over and bonded to the tooth. This will further minimize chances of a re-infection.
If we've recommended a root canal, then we think your tooth should be saved instead of extracted. The procedure will end the pain you've been suffering and give your tooth a new lease on life.
If you would like more information on root canal treatment, please contact us or schedule an appointment for a consultation. You can also learn more about this topic by reading the Dear Doctor magazine article "A Step-By-Step Guide to Root Canal Treatment."
By James C. Palmer, DDS
March 29, 2016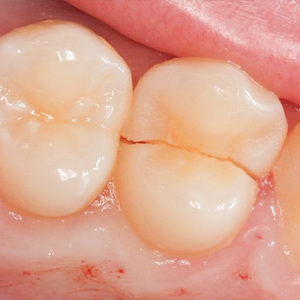 Teeth can take a lot of force over a lifetime of biting and chewing, thanks to enamel, their outer layer made of the strongest substance in the human body. Unfortunately, they're not invincible: it's even possible for you to break or "fracture" a tooth while biting or chewing normally.
Although such a fracture might seem to occur out of the blue, it's usually related to a condition known as cracked tooth syndrome. It usually occurs in three stages: in the first, miniscule cracks in the outer enamel known as craze lines develop. They're not immediately dangerous since they only involve the enamel surface; but left untreated they could deepen and progress to the next stage, a larger crack that penetrates the tooth's underlying dentin.
If allowed to grow, this crack in turn can lead to the third stage, a full fracture that could extend down to the root. A fracture can put the tooth in danger of loss, especially if its inner pulp becomes exposed. To avoid this worst case, it's best to treat the tooth at the earliest stage possible when craze lines are just developing.
There is a difficulty, though, with detecting craze lines — they're small, too small to detect normally with x-rays. We, therefore, rely on other methods such as using an instrument called an explorer to feel for cracks, having the patient bite on a stick or rubber pad to replicate pain symptoms or using fiber-optic lighting with special dye stains to highlight possible cracks. Endodontists, specialists in root canals, can use microscopic equipment that's quite adept at detecting craze lines.
There are also some signs you can be on alert for that might indicate a craze line or crack. If you feel a short, sharp pain — a "wince" — when chewing and releasing food, you could have a crack that hasn't yet affected the nerves. If a true fracture occurs, the pain will intensify and you may notice pieces of the tooth coming off. If the crack extends to the root, the pain will become greater and more chronic.
It's important then that you see us for any recurring pain symptoms as soon as possible. If it's a crack, the sooner it's treated the better your tooth's chances for survival.
If you would like more information on cracked tooth syndrome, please contact us or schedule an appointment for a consultation. You can also learn more about this topic by reading the Dear Doctor magazine article "Cracked Tooth Syndrome."