Dentist in Homer, LA
The brief descriptions below are designed to familiarize you with our staff's training, professional credentials and work experience.
James C. Palmer, DDS
Dr. James Palmer has been delivering outstanding dental care for 36 years. Born and raised in Claiborne Parish, Dr. Palmer is a Summa Cum Laude graduate of the University of Louisiana-Monroe and received his dental education from the LSU School of Dentistry in New Orleans where he received the top award for excellence from the LSU School of Dentistry Department of Fixed Prosthodontics (crown and bridge) and a certificate of merit for completing an advanced dental study program. Dr. Palmer was selected as one of America's Top Dentists by the Consumer Research Council of America in 2005, 2007 and each year from 2009-2020 based on his commitment in continuing education and years of experience.
To remain on the cutting edge of dental treatment and technology, Dr. Palmer is a member of several prestigious professional organizations including the American Dental Association, the Louisiana Dental Association, the Ark La Tex Academy of Dentistry and the Northwest Louisiana Dental Society.
Dr. Palmer has developed a preventive and advanced restorative practice with an emphasis on cosmetic results. Upon completion of hundreds of hours of continuing education, Dr. Palmer has extended his range of dental services to include: implantology, Invisalign, oral surgery, root canal therapy, Lumineers, microdentistry, and advanced techniques in preventive, restorative and cosmetic dentistry. Dr. Palmer's multi-disciplined approach to dentistry is unique. He focuses on your individual wants or needs. His passion is in the sincere interest of his patients and it rarely goes unnoticed.
Dr. Palmer met his wife, Dottie, at the LSU School of Dentistry in New Orleans where she received her B.S. in Dental Hygiene. They have two married children and four grandchildren. Dr. Palmer gives back to the local community by supporting various organizations like Claiborne Charity, Main Street Homer and the local Boys & Girls Club. He is also a business member of the Claiborne Healthcare Foundation and the Claiborne Chamber of Commerce.
In 2014, Dr. Palmer traveled with several dentists to Mexico and to Chile with members of the International Academy of Dental Implantology. These doctors donated their time, supplies, and skills by performing various implant surgeries on patients. Dr. Palmer and his staff have provided dental health education to the area schools, daycares, the local Boys & Girls club, the Claiborne Council on Aging, and meetings in the community. In his spare time, Dr. Palmer enjoys fishing, golfing, waterskiing, snow skiing, and LSU and Saints football!
---
Dottie Palmer, RDH,BS - Registered Dental Hygienist
Dottie is married to Dr. Palmer and has been working for him since the practice opened in August of 1985.
She earned her Bachelor of Science degree in Dental Hygiene from the LSU School of Dentistry in New Orleans.

Dottie enjoys swimming, snow skiing and spending time with her friends and family. What she enjoys most about her job are
the people that she has met over the years. She cherishes the friendships she has formed with them and with her coworkers. Dottie also enjoys the opportunity to help others achieve their goals with their oral health.
Dottie has been involved in the local community by serving as an officer on the board of both the Claiborne Chamber of Commerce and the Claiborne Memorial Medical Center. Dottie also served as President of the Claiborne Academy Booster Club. She has been a mentor for the Claiborne Parish AHEC students each summer, earning their "Best Mentor" award in 2010 and each year from 2012-2015! Dottie is presently serving on the Bayou North AHEC Board and on the Claiborne Watershed District. She has volunteered her time speaking to various day cares, school groups, the local Boys and Girls Club and senior citizen meetings.
---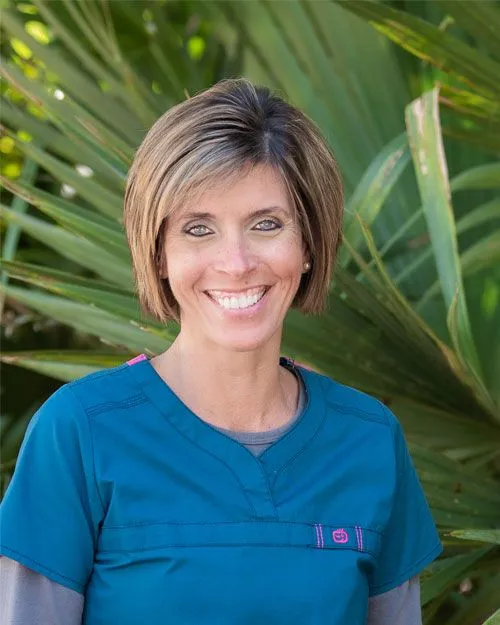 Lisa Reeder, RDH, BS - Registered Dental Hygienist
Lisa graduated magna cum laude from Northeast Louisiana University in May 1998 with her Bachelor Of Science degree in Dental Hygiene. She began working with Dr. Palmer shortly after her graduation in June 1998.
Lisa's favorite aspect of her job is the daily interaction with patients and co-workers. She enjoys keeping up with her patients through their routine re-care visits.
Lisa and her husband, Kerry, have three children that keep them busy. Lisa enjoys their life of shuffling children to and from school, swim meets, and dance. Above all, she loves spending quality time with her family.
---
Britni Vise, RDH, BS – Registered Dental Hygienist
Britni, a practicing dental hygienist since 2005, joined our team in November of 2015. She graduated from the University of Louisiana at Monroe with a Bachelor of Science Degree in Dental Hygiene.
She joined our team in November of 2015 and is excited to get to know and care for our patients. What she enjoys most about her job is the opportunity to build relationships with her patients, while helping to improve their oral and overall health. Her dedication really shows!
In her free time, Britni enjoys reading, taking on "do it yourself" home improvement projects, and crafts. She also enjoys spending time with her husband, Jeremy, their two young children, and all their friends and family.
---
Donna Bennett, EDDA - Expanded Duty Dental Assistant
Donna has been working as one of our dental assistants since September 2014 and "hit the ground running"! She has been trained on taking x-rays, infection control, HIPPA, OSHA, CPR, and dental assisting. She achieved her EDDA certification in July 2015.

Donna is a people person that loves to make people smile. She feels her career with Palmer Dental fits her perfectly as she enjoys meeting new people and literally helping put a smile on their faces! (We agree!) She especially loves working with children.

Donna's hobbies include reading, working in her yard, decorating with her daughter, spending time with her family and friends, and, of course, shopping!!
---
Shelbe Terral - Expanded Duty Dental Assistant
Shelbe Terral joined the team at Palmer Dental in April 2021 as one of our dental assistants. She is a quick learner and has proven to be proficient at her job. She earned her Expanded Duty Dental Assistant certification November 16, 2022!
We feel like she has worked here for years already! She stated, "The first week here at Palmer Dental, I knew I found a job and environment I loved to come to every day! Her parents always told her when you find a job you love, you will never work a day in your life.
Shelbe is a lifelong resident of Summerfield, LA. She and her husband, Kevin, enjoy spending time with their young son. There is never a dull moment where they aren't chasing him around!
She enjoys spending time with family; especially Sunday dinners and yard ball after supper. Shelbe also enjoys hunting, riding side by sides, crafting and playing softball.
---
Angie Goodwin, Scheduling Administrator
Angie first began to work for Dr. Palmer in 1988. She worked as a dental assistant for six years. During that time, she earned her expanded duty dental assisting certification. In 1995, she left to pursue a degree as an LPN from Louisiana Technical College. Angie returned to work with our team in July of 1998. She now works in the business office helping our patients schedule their appointments.
Angie's hobbies include planting flowers, shopping, spending time with her two daughters, and hanging out with her friends. Angie loves to talk and laugh!! She always greets our patients with a smile and sometimes a hug to comfort them when they are anxious. After all, just a friendly face can make someone's day!
---
Jana Ruple - Financial Benefits Administrator
Jana first joined our team in 1991, working for two years as one of our dental assistants. She returned to work here in January 2006 as our Financial Benefits Administrator.
Jana enjoys being around people!! She loves our patients and would like to write a book about the things that people say…especially the children. They just say the cutest things!
Jana's hobbies include spending time with her family, weekend getaways, sports, shopping, and cooking. She also truly enjoys her photography business she has on the side!
---
Andrea (Andy) Roberson - Insurance Benefits Administrator
Andrea Roberson is our Insurance Benefits Administrator. She started her position at Palmer Dental in August 2021. She has great computer and organizational skills that has enabled her to learn her job quickly.
She has proven to be an asset to our business team!
Andrea, (better known as Andy), is happily married to her husband, John. She is the mother of two beautiful children, Anna and Nolan.
She is a lifelong native of Summerfield, LA. In her spare time she likes to shop, read, spend time with family, and be an active "Aunt" to all of the kids in her community.